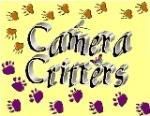 Technically i think for Camera Critters we're supposed to do still pics but i thought i'd share a video this time. It accurately depicts a day around my house where for Poppa EVERYTHING is a toy or an enemy. I'm not really sure how he see's this innocent q-tip but it was cute watching him play.
Oh and make sure your sound is down, I was listening to 80's hard rock when this particular playtime began and didn't turn it down before recording.
If you'd like to join Camera Critters, grab a pic of your own little weirdo.......ummmmm, i mean beloved furbaby or a critter you find you'd like to share and well, share it lol.
Nessa