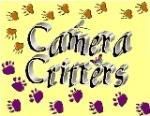 I always love to see what others post on this meme, even if I don't participate myself. Animals can bring a smile to any day.
Have a critter you think would brighten someone's day? Don't be selfish....share it :)
He's not shy at all. He's just trying to be cute and make me think it wasn't him that ate the phone cord. Don't worry buddy, I know you were framed........or something like that.
Nessa